MOTOROLA Power to Communicate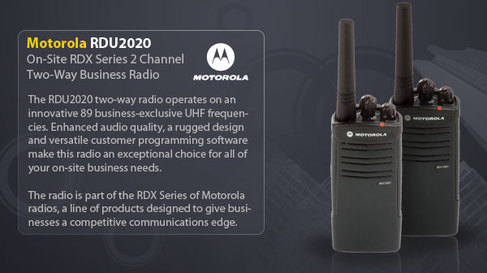 Discover what many managers already know—Motorola on-site two-way business radios offer you a powerful tool for enhancing employee productivity and overall customer satisfaction. Now, through the enhanced technology in the RDX Series, Motorola brings you an edge in performance that you can leverage in your company or facility.



Exceptional Audio Quality The RDU Series™ audio is 30% louder than previous Motorola XTN and AX models thanks to 2000 mW audio output, speaker magnetic field reduction, wind-noise reduction and improved RF specifications


---
....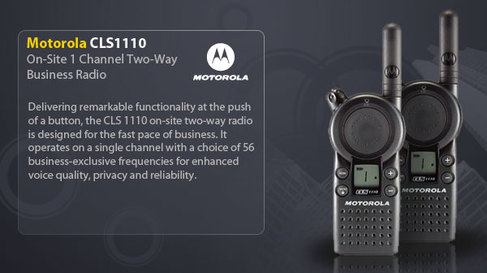 Enhance Productivity Designed with productivity in mind, CLS Series radios and accessories provide a communication solution that is affordable and reliable. These radios are designed for employees and staff to carry and hold all day, yet built to withstand everyday use.

Flexibility These radios offer the range and features that can help you increase productivity and efficiency, enhance security, and improve overall operation or customer service—all at the push of a button.

Convenience Making sure your radios are charged and ready to go is effortless too. Multi-unit and single drop-in chargers keep radios charged, ready, and centrally located. And the rechargeable lithium ion battery provides up to 12 hours of battery life.


---